Of Party, Party and more Parties
I turned 5 on 30 December and to date, I've had in total 4 birthday celebrations already. The first was at the Kallang Ice Skating rink on 19 December where my friends were invited to my "High School Musical on Ice" birthday bash. Mommie thought the party was rather haphazard as a lot of details were put together only at the very last minute. She would have loved to get me the pinata, the HSM themed goodie bags, attire, etc but alas, time was not on her side. Despite these hiccups, the feedback she received from my guests seemed to suggest that the party was a great success. Many of said that they had fun (those who were previously very fearful, could now skate on their own!) and are now raring to come back to the rink for more skating fun!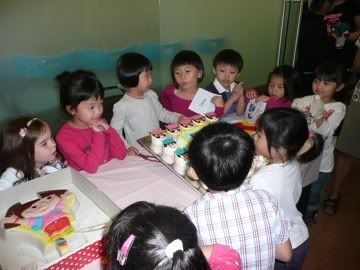 The 2nd party was held at Ah Kong's place. It was a christmas cum birthday celebration for nikkolette and me. Although there were only 12 of us, there was enough food on the table for a whole village or so says mommie. Imagine a turkey big enough for me to stuff my head into it - think Mr Bean. When the party ended, i ran upstairs to rip the wrappers apart and i'm delighted (hmm.. or should i say "OVERJOYED") to find a Liana and Ian doll within my presents (Thanks Nikko - you sure know me best). Now together with the Alexa doll which i got earlier from Lauren, i now have a complete Barbie - Diamond Castle - doll collection.. Whoppee! And.. of course, there's the beautifully illustrated popup fairytale storybook from Auntie Pinky. Ah Kong read them to me and i enjoyed the stories very much.. Thank you all for the wonderful gifts :)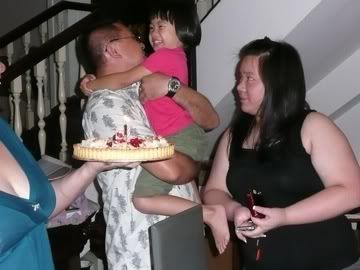 Now, Party Number 3 was truly a magical one. It was held at the happiest place on earth - Disneyland! The day before, i received a surprise birthday present in my hotel room. It's a towel cake and a birthday card with a picture of all the Disney Characters. On my birthday, i was treated to a day of fun at Disneyland and a shopping spree at the disney shop. I was allowed to pick any item i want from the shop and i chose an Aurora costume dress - much to mommie's dismay - but daddy bought it for me anyway :). Later, I received a call from the concierge in the evening and who told me that Mickey and Minnie has dropped off yet another birthday gift for me. I went to the lobby to collect it and it was a Princess Dining Set - how sweet of the 2 mice! Then, at around 10pm, my birthday cake arrived and we had a small birthday celebration in the hotel room.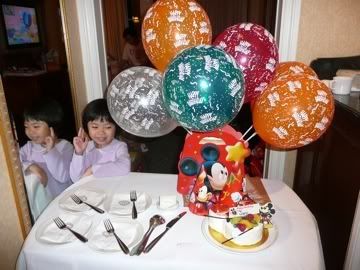 Tonight, i had my 4th birthday party at Fatty Gramps house. This time it's a New Year cum birthday celebration. My australian cousins are in town for a visit and I invited them to the party too. Also at the party are 2 of my very close friends, edythe and kendra. Although the party was nothin grand, but the joy of celebrating it with my closest friends, family and cousins is just so fabulous!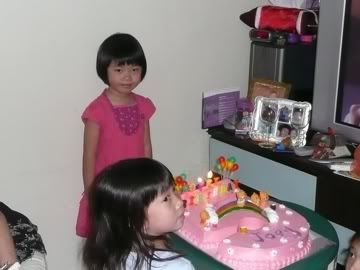 Now that a new year has started, it's time to take a siesta from partying and get ready for some serious "work". I'm starting K2 tomorrow at a new school and I'm looking forward to a whole new learning journey in the 2009 :)
Happy 2009 everyone!