Boo! Here comes the Princess (updated!)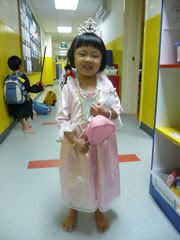 It's halloween time again! This is one of the funnest time of the year coz we get to dress up in fancy costumes and go around the school "trick a treat'ing". To make my halloween memorable, the whole family went into "battle ready" mode...
1) Daddie carved me me a jack-o-lantern to hold all the treats
2) Mommie bought me my princess costume, tiara and a purse
3) Sati altered my princess costume to make sure it fits me to a "T"
4) ME - Went ballistic at Candy Empire filling up bags with candies...candies.... and more candies!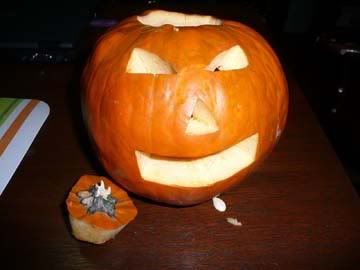 Jack-O-Lantern carved with love from Daddie. He wasn't feeling well but still, he dragged himself out of bed and stayed up late just to carve it just for me. Thank you Daddie!! I love you!
P/S: Mommie has this "grand" idea of dressing me up as a SUPERSTAR for halloween next year. Daddie couldn't hold back his excitement and starting crooning "I am a superstar with a big big house and a big big car.... I am a superstar and i don't care who you are". Catch Toybox's Superstar MTV here.. it sure brings back fond memories of their dating days :) Enjoy!
Labels: halloween, joey khor, princess, pumpkins, superstar, toybox, trick a treat