Chitty Chitty Bang Bang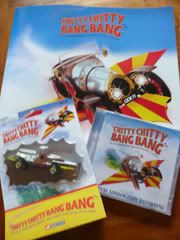 I attended my first full scale musical last week. I enjoyed most parts of it EXCEPT for the last few scenes of the nasty child catcher! My favorite part was when the dogs came running into the factory. I saw a golden retriever which looked just like chardonnay! I told daddie about this and he seemed surprised that they will allow such big dogs on stage. Oh! and it was truly amazing to see the car fly too!!
During the intermission, we had a jolly good time at the souvenir stand choosing souveniers to "commemorate" my first musical experience:) And now, like the Potts siblings, Jemima and Jeremy, I announce that I'm the proud owner of my very own Chitty Chitty Bang Bang car - albeit a tiny one.