Baby Prom
Thanks to Auntie Sumin, we got tickets to the highly acclaimed BB Prom. Like my old man, i'm a music junkie.. i enjoy all genre of music from nursery rhymes to funky pop to classicals. Take a journey with me in my (ahem.. i mean mommie's) car and you will get to experience this "junkie'ness".
Back to the proms. it was a fun experience for me coz the whole session was really interactive. I jived to the beat of the music, hopped up and down and even went up on stage to see the orchestra in live in action!
Wanna know what's my favourite instrument now? It's the violin.... but no... my parents have no plans to sign me up for any music classes yet coz they know as well as I do that my interest changes as quickly as the direction of the wind.
Pre-concert event. We were introduced to different types of instruments. There were brass, woodwind, percussion and string instruments.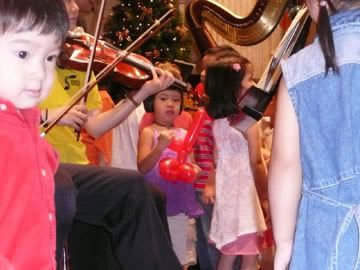 Up on stage with the orchestra.