Swimming Lessons
I've been attending swimming lessons for over a month now and i think it's time for some updates on my progress.
Although i've yet to learn to swim independently, I've gained alot more confidence in water. I'm no longer afraid to put my head under water but I'm still having some problems blowing bubbles through my nose.
Swimming lessons are something I look forward to every week. My swimming buddies includes Ernest, Yi Shu, Yi Ting, Kristy and Lee Shin who are all my classmates from Etonhouse. On fridays, Mommie will pick Ernest and myself up from school and we will head to Yishu's house for our lessons (but not before we have a little "picnic" in the car enroute to the pool).
Our coach, uncle John is fantastic with children and he sure knows how to make the lessons fun for us. We play a lot of water games and also pretended to be spiderwomen (and spiderman) walking along the walls of the deep pool while learning to blow bubbles.
Here are some pictures of what goes on at my swimming class.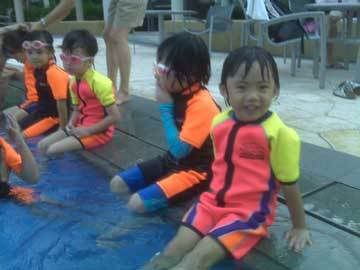 Getting ready for swimming lessons with my classmates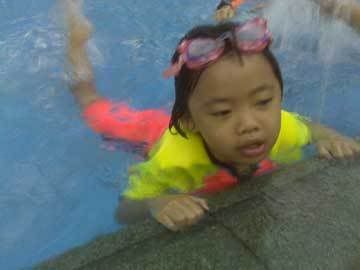 Learning to kick and blow bubbles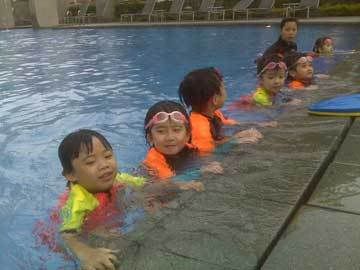 Walking along the wall at the deep end of the swimming pool