Funfilled Weekend
It was an action packed Saturday last week. We started off the morning with a ride on the Duck Tours. It was actually my second time riding on this amphibian but i enjoyed this ride more coz i managed to stay awake throughout (plus, the quacker mommie bought for me was an added bonus *wink*).
The afternoon was a mad rush to the supermarket to get ingredients for our steamboat dinner. We've invited michelle, isabel, mabel and daren (and their parents) to Ah Kong's place for a cousin's gathering.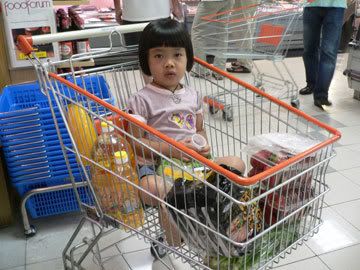 Back home, I helped mommie and Indogal prepare and wrap wantons. I gave specific instructions that the wantons i made with my sweat and blood are for Ah Kong ONLY (oh well, maybe not blood... but sweat, definately!) ! Hmm... mommie didn't seem to mind it at all. In fact, she was relieved that she didn't have to eat them. *tsk* *tsk* how unappreciative of her!
Well, 4 days have passed since Ah Kong savoured all the wantons I made for him and I haven't heard any complaints of tummyache yet.. So i guess, the wantons i made were delicious and more importantly, EDIBLE afterall!