National Pride, Camaraderie and Sportsmanship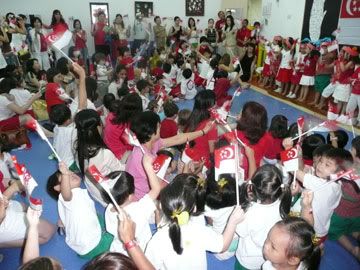 Today's a day for celebration - it's our National Day. No prize for guessing, YES! the school was a sea of red and white. Everyone was decked out in these colours as a show of patriotism. Coincidentally, the japanese flag is also red and white, and with 80% of my school population being Japanese, they probably love these 2 colours (though technically speaking, white is not a colour) as much as us Singaporeans do.
There was one thing which bothered mommie though. It was when the school asked everyone to sing "We are Singapore, Singaporeans..... Singapore our homeland, bla bla bla.." She wondered how majority of my schoolmates' parents would feel about their kids making such declarations through the song. It must have been rather uncomfortable and awkward for some of them.
Oh well, let's get back to my topic and not let mommie's thoughts cloud my blog entry. Ok. After the celebration, we proceeded to the playground for our Annual Sports Day. It was the event i've been waiting (and training) for. Mommie was there to cheer for me along with other parents and all my friends. Events like these really brings the class and the parents closer. Hmm...I wished mommie had brought along our pom poms though!
We went on an obstacle course, a tricycle race, and finally a egg and spoon relay. It was all in the name of camaraderie, fun and sportsmanship. By the end of the sports day, everyone went home a champion!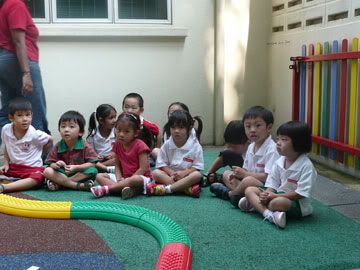 Pearls getting ready for our Sports Day.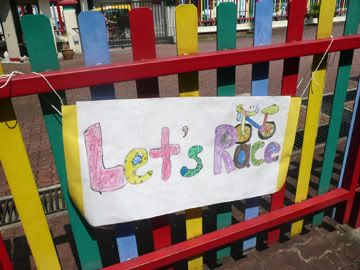 Let the race begin!
Pedals away! Ernest is leading but i'm not too far behind.
| | |
| --- | --- |
| | |
| I'm hot on his heels | Zooming down the slide |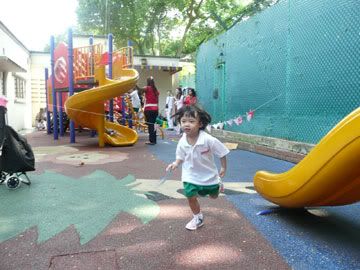 And, dash to the next station
| | |
| --- | --- |
| | |
| I got to hop the hoops like a bunny | and toss the rings onto the cones. |
| | |
| Balance the egg, make sure it doesn't drop | Finally, cycle back as fast as i can! |