My Idols Are Coming to Town!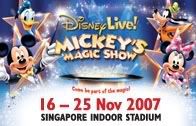 Woohoo!! Mickey Mouse and Gang are coming to town for a magic show. Mommie and Daddie have already gotten me tickets to see them "live" in action (without skates, finally!). Wonder if i'll get to see Darby, Tigger and Pooh too. I've not missed a single episode of "My friends, Tigger and Pooh" since it's first broadcast.
So, my dear Mickey and friends, see you at the Indoor Stadium on 23 Nov!