100 days in K1
We celebrated our 100 days in K1 with a water and bubbles party yesterday. Everyone brought some food for the party and for me, i brought some yummy sausages and cheese topped with a little paper crane.
The paper cranes are made with love from Fatty gramps, who spent the whole night folding them to make my otherwise mundane looking sasauges look fun and appetising. I themed it "Fatty Gramp's Bird Park". The sausages and paper cranes were an instant hit with all my classmates and they all wanted to bring a little crane home.
The party itself, was kind of disastrous for me though, coz the watergun i brought along couldn't squirt out any water and I couldn't make any bubbles from the bubble solution. But the saddest part of all was the fact that my daddie and mommie couldn't make time to attend it. It was rather sad to see the other parents attending the party except mine.
They promised to make it up to me by taking me to a special show that night...... Check out the post above.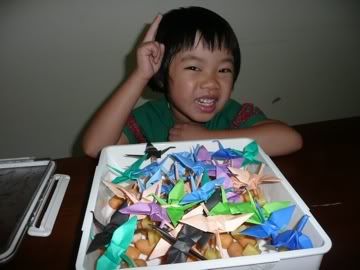 Bird Park in a box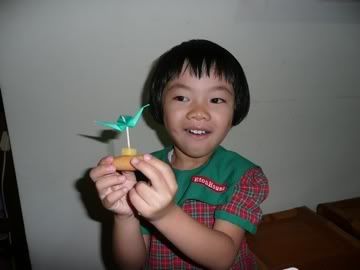 Paper crane made by Fatty Gramps dearest!