Book week @ Etonhouse
I'm dressed up as Dora


Today is Book Week @ Etonhouse! For the past 2 weeks, Miss Deena has been preparing us for the book parade and helping us rehearse our song and dance item.

For the book parade, the pearls presented 4 items. First it was the "show and tell" where all of us introduced ourselves, the characters we were dressed in, and our favourite book. Then, the girls (maya, kaede, annisa, yishu, kuhoo and I) performed a short ballet routine, where we spun round and round and round and round and.................. *crashed* into each other!

After the ballet "comedy", it was Annisa's turn for a solo performance. She was going to sing "Down by the Bay", but backed out in the last minute coz she had stage fright. It was a pity as she sang really well during the final rehearsals.

Then, it was my turn to read a book out aloud to a school hall filled with parents and children. Although mommie and daddie said that i wasn't speaking out loud and was even mumbling at times, they were nevertheless, very proud of me!

The last performance item was something my friends and I enjoyed the very much. It was a chinese song and dance chorographed by 孙老师 called 拔萝卜. Ernest was the leader and he sang the song very well!

At the end of our performances, the applause from all the parents was deafening. Wow! We became STARS of the day!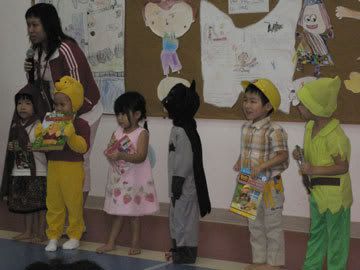 Everyone is dressed up as their favorite character.There's bob the builder and little red riding hood too.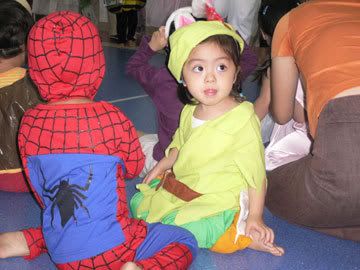 Spotted amidst the crowd - Spidey and Robin Hood?
Miss Lisa and Miss Evonne acting funny!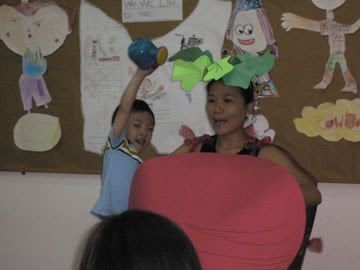 Ernest 种萝卜。孙老师是一个大萝卜!
That's me reading a book to the school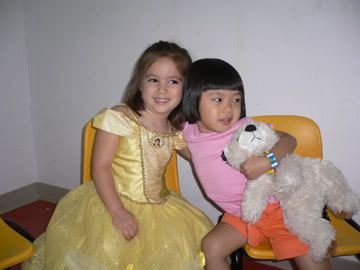 Princess Annisa and Me. I like her costume!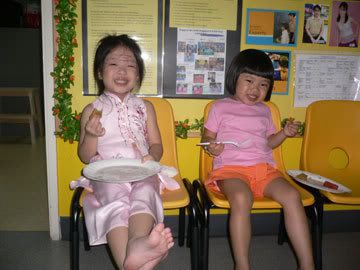 Yishu and Me, relaxing over snacks after the performances.