Dora's Pirate Adventure
Friday was a day filled with activities. First, it was the 100 days party in school, then it was play time with cousins and in the evening, we went for the highly anticipated Dora's Pirate Adventure show. Thanks to Auntie Sandra who booked the tickets long in advance, we got front row center seats.
It's one of the best shows i've attended. The energy level was high, show was interactive and music was great! Even daddie who usually falls asleep at such shows, had a hard time closing his eyes coz the show was so enjoyable!
The finale was an euphoria! Alot of kids (*ahem* me included) ran to the front of the stage to dance and sing along with Dora, Diego and all the other friends! I had such a jolly good time at the show. I wish someone will bring the Diego show to Singapore soon!
Next up, High School Musical on Ice on 8 August. All my cousins will be going for this show with me too..... Oohh!! i'm so looking forward to it!
Mabel and I, having a greating time at Dora's Party!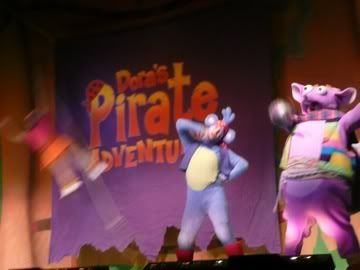 Part 1 of the show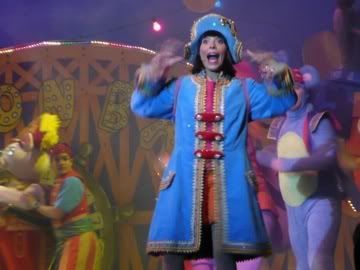 Dora! Dora!