Weekend with Cousins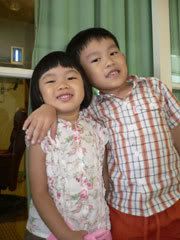 A pic with birthday boy, Darren!
I had a weekend overwhelmed with activites. First, it was a visit from my cousins and their grandparents from Hong Kong, who were here to attend Tai Kong's 90th birthday bash. Nevermind that i've never seen my hongkong cousins before, after just one introduction, we hit it off so well it was as if we've know each other for ages! It still baffles my folks how we could communicate when they speak only cantonese and i could understand none of it!

On Saturday, Daddie and Mommie brought the whole bunch of us to the zoo but we didn't get to see many animals before the sky threatened to pour on us. We didn't even make it to the horse carriage ride which we were all so looking forward to! We refused to let the weather dampen our spirits so we entertained ourselves by running after each other and clamouring for the wagon!

Then came Sunday. We made a mad dash to toysrus to get presents for all my cousins. In just a matter of 20 mins, our shopping cart was overflowing with toys! It felt like christmas again! We had presents for everyone including my Khor cousins and Darren who turned 6. Happy Birthday Darren! I hope you like the telescope and microscope i chose for you.

And to my Hongkong cousins... "I hope you've enjoyed your stay in Singapore. See you in October!"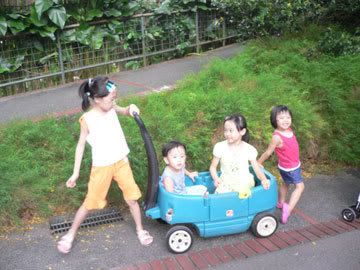 We absolutely love the wagon ride.



Me, Lumlum and Meimei, my cousins from Hongkong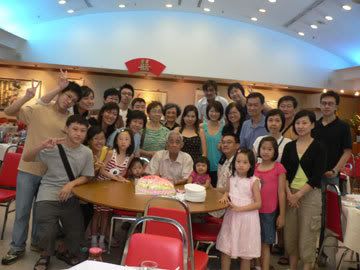 Happy Birthday Tai Kong!



I think we share some family resemblance.