Chinese New Year Activities
Besides getting my piggy in the bank fed with my ang pow money - which is IMPORTANT, every Chinese New Year is also about family bonding - which is even more IMPORTANT!We go for family outings and do things we enjoy together as a family.
Here are some of the things we did during this festive season:-
The Sentosa flower show
It delighted me with many mother goose characters whom i'm so familiar with. Saw Humpty, the old woman and her shoe, the cat and its fiddle and many more. The flowers were sweet, the displays were nice but the weather was rather unkind. We left the show feeling hot and sticky all over.
| | |
| --- | --- |
| | |
| And the dish ran away with the spoon | The old woman's shoe |
| | |
| The king's horses and men | Pinocchio? |
The Chingay
Mommie, Indogal and I were at the Chingay last night. It was a big parade and we sat by the roadside just like we did at Disneyland. I learnt that there are 2 meanings for the word "float" - the first being an inflated buoy which i can use for swimming and the second is an elaborately decorated lorry. My favourite float for the night must be the giant bubble machine which spat out lots and lots of bubbles!
| | |
| --- | --- |
| | |
| When will the parade start? | Drummer boys |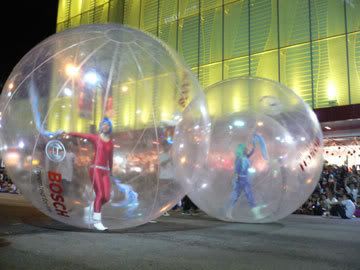 Women in giant bubbles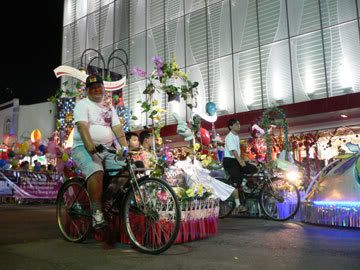 Trishaw rides
Steamboat Gatherings
We are having a open house throughout the Chinese New Year for friends and relatives to congregate and enjoy some yummy steamboat together. For the record, we already had 4 of such steamboat parties with daddie and mommie's family, friends, colleagues and ex-colleagues! I think there will be more to come, considering how much my folks enjoy a scrumptious steamboat meal with good company :)
Swimming
Kong Kong, Daddie, Mommie and I went swimming at the club today. The last time i set foot at a swimming pool was 3 months ago at Bintan! Naturally, i was estatic when my folks suggested the idea of a swim. When we got to the pool, it was drizzling slightly but the water was nice and warm. I love swimming at the club coz the pool is never crowded, i could cart along my big floats and water toys and at the end of the swim, i'm always served with my favourite hotdog at the poolside cafe. Ahh......what a luxury!